LAWLINE.COM AWARDS ROCCO CIPPARONE AS MOST POPULAR CONTINUING LEGAL EDUCATION PRESENTER
November 17, 2010: Lawline.com, a Premier Provider of Continuing Education Courses For Lawyers, awarded
Rocco Cipparone as its Most Popular Presenter of Continuing Legal Education Courses to other attorneys. To see some of the reviews by other lawyers who have taken his courses, click here.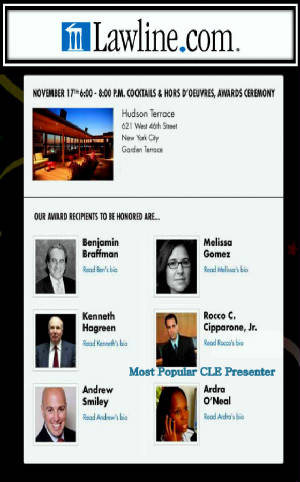 Thu, November 18, 2010 | link
NOV. 2010 - SOUTH JERSEY MAGAZINE NAMES ROCCO CIPPARONE AN AWESOME ATTORNEY
Rocco C. Cipparone, Jr. again has been recognized in the November issue of South Jersey Magazine as an "Awesome Attorney" in the field of criminal defense. Mr. Cipparone has been recognized several times before by SJ Magazine in that same context.
Thu, November 18, 2010 | link