ROCCO CIPPARONE JR. IS LAW DAY 2011 KEYNOTE SPEAKER
April 29, 2011: Rocco Cipparone Jr. was the invited Keynote Speaker at the Cumberland County Bar Association's Celebration of Law Day 2011.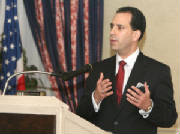 For an article regarding the event, CLICK HERE. This year's national Law Day theme was "The Legacy of John Adams: From Boston to Guantanamo." Mr. Cipparone addressed a large group of prosecutors, defense lawyers, civil practice lawyers, judges, citizens and others regarding the importance and difficulties of representing persons charged with unpopular crimes, recognizing the representation of John Adams (the first lawyer U.S. President) of the British Soldiers accused in the Boston Massacre.
Fri, April 29, 2011 | link